Hello in 2016! 2015 was a really great year, full of smaller and bigger successes, lots of changes, travelling and meeting new people. One thing remains the same though - I am still really great at writing regular posts on my blog ;-). Maybe this year, maybe this year... :-)
Today I want to tell you a little bit about my new classes for 2016. I will still teach my old ones ("Herbarium pendants" and "Twig rings") in a few places, but I felt need of something fresh and new. So here they are :-).
"Mushroom dreams"
I am particularly excited about this one. It's a 3 days workshop packed with lots of different techniques, featuring a branch (empty inside, so it's perfect for a bead-strung necklace), various, 3 dimensional mushrooms, and a small, bezel set stone. Wonderful textures, interesting shapes, lots of tricks for creating secure openwork constructions in metal clay - this is what this workshop is about.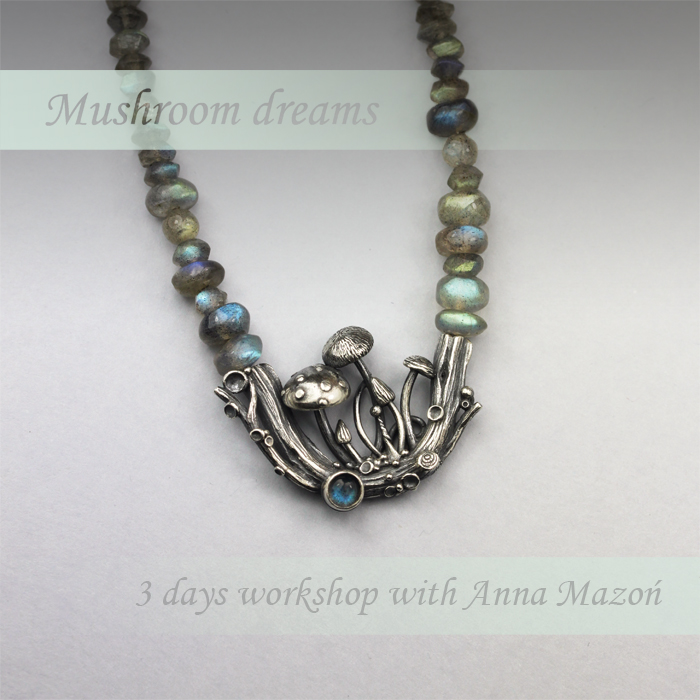 "Heart Deco"
It's a 2 days workshop featuring really cool "pillow" effects, interesting filing techniques for creating lovely ornamentation, various ways of working with coils, clean setting of fireable stones, articulated bail or a little "dangle" and much more. Pieces created during this class can look in many different ways - not necessarily like stylized hearts. As usually in case of my classes - using the same set of techniques everyone can create something different.


















"Miniature Teddy Bear"
This one is a one day class for those who love tiny, cute creatures. Creating a tiny teddy bear, which is mainly empty inside (to save on clay) is not as difficult as it might seem. It's just about following certain steps and using your imagination. Your teddy bear can hold a tiny heart or have a miniature tie or maybe a necklace... This class is about playing with miniature shapes and having a lot of fun! You will learn working in a small scale, building tiny, hollow elements and creating details in both wet and dry clay.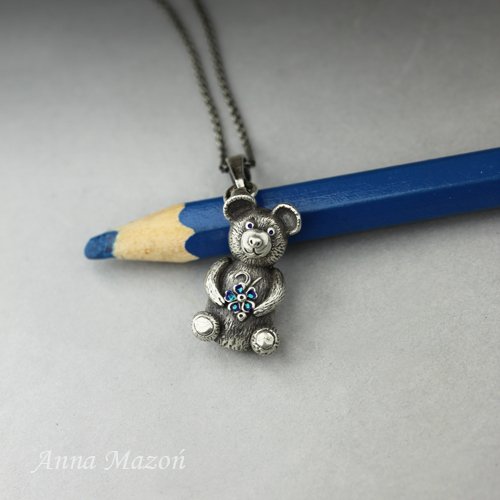 I already arranged classes in a few countries for 2016 - in some places everything is set, in some places we are still talking about some details.
Sooo...
In the first half of the year I'll be teaching in United Kingdom, then Belgium, and finally Austria.
->
In
UK
you can meet me in
Metal Clay Ltd.
(Wareham, Dorset). I'll be teaching two classes. First "Heart Deco" - 30th April- 1st May
"Twig rings" - 2nd May
->
In
Belgium
I will teach yet again in
Inge Verbruggen's
studio. Two classes.
"Mushroom dreams" - 14th -16th May
"Miniature teddy bear" - 17th May
The plan is...
"Mushroom dreams" - 27th - 29 th May
"Miniature teddy bear" - 4th June
"Twig rings" - 5th June

Later you'll be able to take my classes in several places in USA, we are still working on some details though.

For sure you'll meet me in

-> Pennsylvania, Philadelphia area (10th-12th September) ( I will teach there "Heart Deco" class and "Twig rings" - contact Lara Ginzburg and Christy Anne Miller for more info)

-> Florida, Sarasota (I'll be there 15th-20th September). The hostess of my classes is Silvie Waals. I'll be teaching two classes there - "Herbarium pendant" and "Twig rings".
-> Texas, in July, 18-22. "Herbarium pendant", "Heart Deco" and "Twig rings". The hostess is Judy Padgett Darrow ( Art On The Veranda dba Three Frog Alley ).

I also have already some plans for 2017, but it's far too soon to talk about this :-).
That's all for now :-).

Ah, and in case you forgot what are "Herbarium" and "Twig rings" classes, here are the photos :-).